COSO Framework
UW-Madison is utilizing the COSO Internal Controls Framework as a guideline for establishing its own internal financial controls framework. The COSO Framework provides an established, best-practice set of concepts and components by which to assess control systems. Applying the COSO Framework as a foundational point in this initiative will help UW-Madison more efficiently identify the objectives and requirements needed to define and support excellence in financial stewardship.
The COSO Cube: Internal Controls Framework and Principles
One page for print (PDF)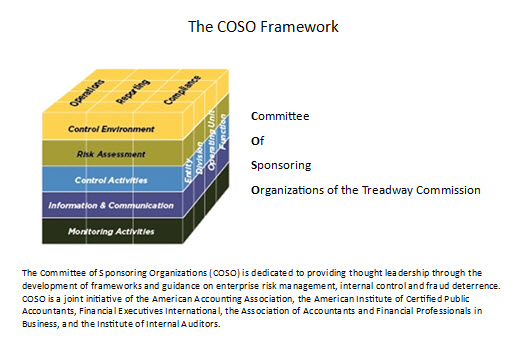 What is COSO?
The Committee of Sponsoring Organizations of the Treadway Commission (COSO). Visit the COSO website.
COSO is an organization that provides thought leadership to executive management and governance entities on critical aspects of organizational governance, business ethics, internal control, enterprise risk management, fraud, and financial reporting.  It was formed in 1985 to sponsor the National Commission on Fraudulent Financial Reporting (the Treadway Commision).  COSO is supported by the following five organizations:
The Institute of Management Accountants (IMA)
The American Accounting Association (AAA)
The American Institute of Certified Public Accountants (AICPA)
The Institute of Internal Auditors (IIA)
Financial Executives International (FEI)
COSO has established a common internal control framework against which companies and organizations may assess their control systems.  The COSO framework is based on these key concepts:
Internal control is a process. It is a means to an end, not an end in itself.
Internal control is affected by people. It's not merely policy, manuals, and forms, but people at every level of an organization.
Internal control can be expected to provide only reasonable assurance, not absolute assurance, to an entity's management and board.
Internal control is geared to the achievement of objectives in one or more separate but overlapping categories
Components of an Internal Control Framework
Control Environment

Commitment of leadership and senior management to effective internal control, adherence to high ethical standards, oversight by those in governance, and support of competent employees.

Risk Assessment

Dynamic and iterative process for identifying and analyzing risks towards achieving the organization's objectives.
Forms the basis for determining how risks should be managed.
Identifies the areas where the greatest threat or risk of inaccuracies or loss exist, with the greatest risks receiving the greatest attention and control.
Consideration given to dollar amounts, nature of the transactions and impact on organizational reputation.

Control Activities

Actions established by policies and procedures to help ensure management directives to mitigate risks to the achievement of objectives are carried out at all levels of the organization, at various stages of operating processes and over the technology environment.

Information and Communication

Information generated at operational levels and communicated across and up the organization to enhance decision-making.
Policies and procedures communicated downward through the organization to support internal control functions.
Information and communication to be fully integrated with the other components of the framework and includes communication with outside parties about internal control and accountability.

Monitoring and Review

Applies to all five components of internal control.
Should fit the organization.
Takes on increased importance as the organization recognizes the need for timely and effective monitoring that provides feedback on the operation of the other components, and extends beyond financial reporting to compliance and operations.